This report summarizes the activities of the Pan-European Common Bird Monitoring Scheme (PECBMS) between January 2019 and June 2019 under the European Commission grant "Towards new generation of Wild Birds Indicators".
Collection of national species indices
Regular request for collection of updated national species indices and population trends has been released with deadline of 30th June. This year is special because of availability of new technologies to help data submission. Coordinators experienced in R may use a new tool for calculation of indices called RTRIM-shell. RTRIM-shell is a set of three R scripts developed by Statistics Netherlands, using RTRIM package for calculation of national species indices. Using this shell makes it easier to process large batches of species with specific model parameters at once. We created a commented RTRIM-shell tutorial to speed up understanding how does RTRIM-shell work. Because of development of RTRIM-shell and other programs, this tutorial is planned to be regularly updated. Other coordinators use TRIM or BirdSTATs. Indices calculated in TRIM and BirdSTATs will be uploaded via an On-line tool. To speed up learning process, we created an On-line tool tutorial which is accessible and downloadable from our website. Because of development of On-line tool, this tutorial is also planned to be regularly updated.
Publication of new European species trends and common bird indicators
The European species indices and common bird indicators (for Europe and its regions, whole EU, New and Old EU states and BioGeo habitats) were published in early January 2019 at the website. There are several improvements in presentations of the results at the web site. For instance, the indicators are provided as smoothed line with shaded 95% confidence limits (Cl). In case of the species indices it is possible to show several species in one graph etc.
In March we have published new leaflet presenting the trends of 170 common European bird species based on data from 28 countries covering 37 years (1980–2016). The leaflet summarizes outputs of the 2018 update and presents a nice example of use of bird monitoring and atlasing in species conservation. PECBMS and EBBA2 data on European Turtle-dove helped to identify Priority Intervention Areas for this species. The leaflet may be downloaded in pdf here.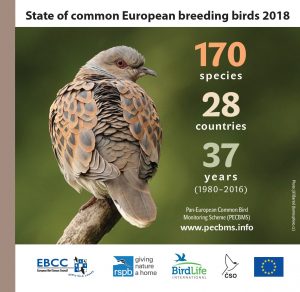 The leaflet presenting the the last update of the wild bird indicators and species trends.
Miniworkshop on wild bird indicators 2019
On 11–12th March a miniworkshop dedicated to wild bird indicators took place in Solsona, Spain. The Forest Science and Technology Centre of Catalonia (CTFC) hosted more than 20 experts in bird monitoring thanks kind invitation from Lluís Brotons. These experts agreed on further steps in developing a new Forest Bird Indicator and discussed on potential to develop regional Farmland Bird Indicator and needs for other indicators to be developed at a European level.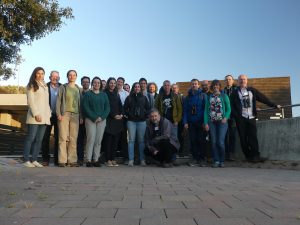 A team of researchers who met in March in Spain to discuss the new wild bird indicators.
PECBMS workshop at Bird Numbers 2019 conference in Évora, Portugal
The 21st Conference of the European Bird Census Council (EBCC) called Bird Numbers 2019 'Counting birds counts' took place in Évora, Portugal on 8-13 April 2019. We organised the PECBMS workshop which was a good opportunity to meet within the network and to share ideas and experience. We informed PECBMS coordinators and wider audience about progress in our work, introduced the new tools for computation (RTRIM, MSI tool) and data delivery (On-line tools) and stimulated discussion about future plans and priorities.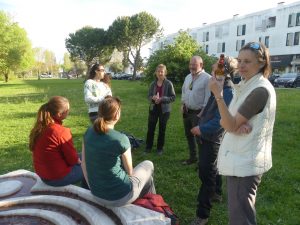 During the conference in Évora there was time also for informal chatting with friends and colleagues from all over Europe.
See also the photogallery on our website.
Technological development and improvement of data flow and analysis
An on-line tool for collecting TRIM output files from national coordinators including automatic data quality control is available and ready to use in data collection.
The program TRIM (TRends and Indices for Monitoring data), used to determine species population trends, was rebuilt by Statistics Netherlands as a package (RTRIM) for the freely available and widely used open source program R.
RTRIM-shell scripts using rtrim package have been developed by Statistics Netherlands and may be downloaded here.
We have been working on an update of site-level data to be used for research purposes.
Presentation of results and promotion
PECBMS contributed to both EBCC Newsletters published in the reporting period (in March and June) and spread to more than 400 recipients, see archive of the newsletter.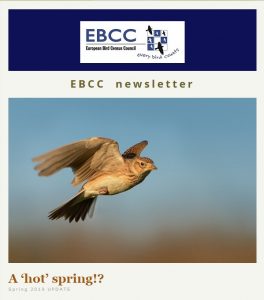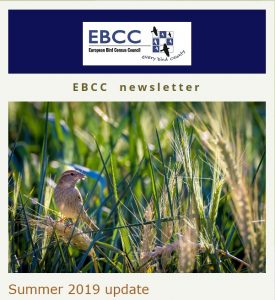 The spring issue of the EBCC newsletter has been spread in March and was covered by a photo of the Eurasian Skylark by Martin Pelánek. The summer issue has been published in June and the cover photo of female House Sparrow was taken by Jan Grünwald.
Research
We published a new paper on wild bird indicators called An analysis of trends, uncertainty and species selection shows contrasting trends of widespread forest and farmland birds in Europe.
The authors have studied uncertainties in the multispecies indices (indicators) and an influence of species selection for the indicators. It also explores ways to present the indicator and to test them.
PECBMS coordination unit, in cooperation with national coordinators, has explored the population trends of long-distance migrants in relation to their migratory flyways. The aim of this exploration study is to assess a potential affect of large-scale bird trapping in eastern Mediterranean on European breeding bird populations. The results of the exploration study will be available by the end of June.
We also have received six new requests for a cooperation with external reseach institutes. All the requests were circulated to the national coordinators of monitoring schemes and we are in a phase of getting approvals for use of the data for each individual data request.
Upgrade and improvement of the web site
PECBMS website www.pecbms.info has been actualised on regular basis. In June 2019 we plan to replace the PECBMS part of www.ebcc.info website with the link to www.pecbms.info.
Maintain and update network of cooperating organizations and individuals
Our mailing list contains more than 350 individual contacts, including coordinators of national monitoring schemes, EBCC national delegates and BirdLife partner organisations as well as policy people and decision makers. We provided advice and consultations to the national coordinators upon request. We updated the Information on generic breeding bird monitoring schemes at the web site.
Reporting and assistance to the main stakeholders of the project, administration
The updates of the EU indicators have been sent to Eurostat to be published on their website. The European and EU indicators were used for the update of the SEBI indicators at the EEA website. We prepared grant report for the year 2018 to DG Environment in January.
Personnel issues
Since January 2019 Alena Klvaňová works on the position of the head of the unit for the International monitoring and research in the CSO and also on the position of PECBMS project manager. Petr Voříšek works as senior expert.